Custom printed popcorn boxes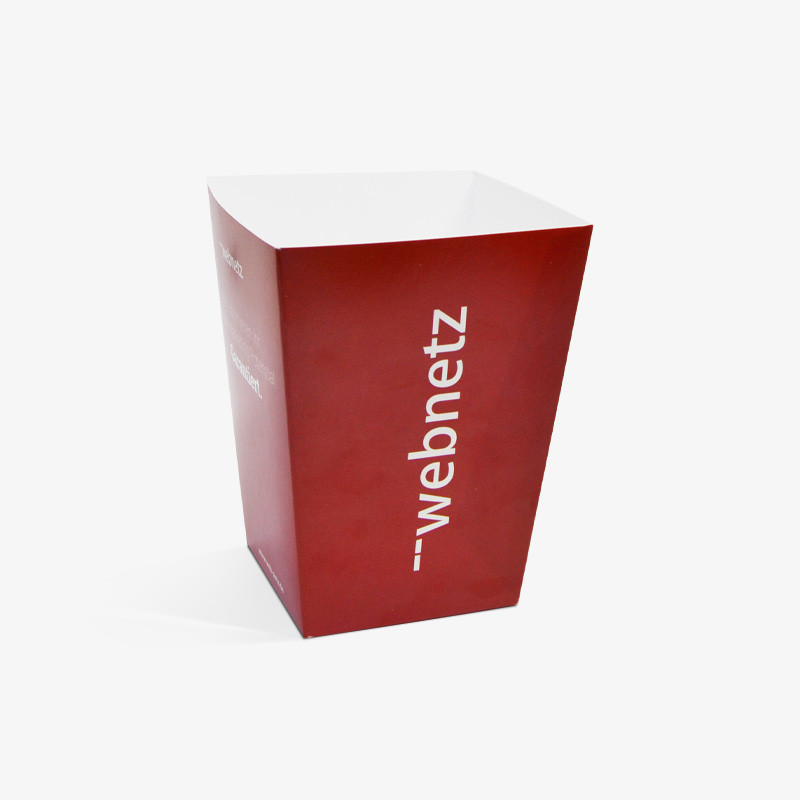 Custom printed popcorn boxes
Free design help info_outline
3D design proof
105% Price guarantee info_outline
UK's best prices
Free UK shipping info_outline
Express shipping possible
Stand out and be noticed by your customers and potential customers with your branded popcorn boxes. The branded popcorn boxes are of course perfect for popcorn, but they can also be used for bacon chips, nachos, and a lot of other snacks. So no matter if you are a company going to a fair or a cinema that needs to promote the next movie release, branded popcorn boxes are perfect for you!
Due to the popcorn boxes being made in Europe we have a minimum order quantity of 200 pcs., and if you are in a hurry we can deliver in only 8 days with our express option. We can deliver the popcorn boxes for free in all of Europe in just 3 weeks.
Choose your branded popcorn boxes from 8 different sizes
We have the largest selection of branded popcorn boxes which gives you a lot of opportunities of what you can use the boxes for. The popcorn boxes come in the sizes 17(0,5 l) oz, 22 oz(0,65 l), 34 oz(1,0 l), 51 oz(1,5 l), 61 oz(1,7 l), 68 oz(2,0 l), 85 oz(2,5 l), 102 oz (3,0 l). If you want to more about the specifics in regards to height, top, and bottom diameter you should check the tab "product details". 
What can the popcorn containers be used for?
The large selection of sizes also offers a lot of different use cases. Where the small sizes especially are used for company events or companies going to fairs, but it could also be a local sports club that is hosting an event and they want to sell snacks to the fans. Whereas the larger sizes are mostly used by entertainment places such as the cinema, theater, or the zoo, so the snack lasts for the full experience. The medium sizes are usually used for sports events such as serving nachos while the parent is watching their child go swimming or go to the match of your favourite sports team. 
Get your popcorn boxes with an easily folded bottom
Our branded popcorn boxes are transported in a flat form to save space and money on transport, so they need to fold into the popcorn boxes so they can contain the snacks. We can make the popcorn boxes with two different types of bottom - Manual and automatic bottom. 
The popcorn boxes with manual bottom have four different tabs that need to be folded to form the bottom. The popcorn containers with the automatic bottom are pre-glued together, so the two opposite corners need a push and a small correction and then you have the containers ready to go. 
Popcorn boxes printed with all the colours you want
We can print the popcorn boxes on all four sides, and we print the popcorn boxes with CMYK colours, this means you can use as many colours in the design as you want without having to pay anything extra. We have our team of designers wait to help you with your next project with custom printed popcorn boxes. We will both help you with both being creative and make the design look nice in the end. 
Read more
keyboard_arrow_down
Data sheet
configuration

step
| | | | | | | | | |
| --- | --- | --- | --- | --- | --- | --- | --- | --- |
| Size | 17 oz (0,5 l) | 22 oz (0,65 l) | 34 oz (1 l) | 51 oz (1,5 l) | 61 oz (1,7 l) | 68 oz (2 l) | 85 oz (2,5 l) | 102 oz (3 l) |
| Diameter (top) | 82 x 82 mm | 87 x 87 mm | 97 x 97 mm | 111 x 111 mm | 115 x 115 mm | 123 x 123 mm | 127 x 127 mm | 135 x 135 mm |
| Diameter (bottom) | 63 x 63 mm | 63 x 63 mm | 70 x 70 mm | 80 x 80 mm | 80 x 80 mm | 85 x 85 mm | 85 x 85 mm | 95 x 95 mm |
| Height | 85 mm | 110 mm | 125 mm | 145 mm | 160 mm | 185 mm | 207 mm | 191 mm |
| Weight | 8,5 gram | 10,5 gram | 15 gram | 18 gram | 21 gram | 23 gram | 25 gram | 28 gram |
| Surface | Glossy | Glossy | Glossy | Glossy | Glossy | Glossy | Glossy | Glossy |
| Printing Method | Offset, CMYK | Offset, CMYK | Offset, CMYK | Offset, CMYK | Offset, CMYK | Offset, CMYK | Offset, CMYK | Offset, CMYK |
| Minimum order quantity | 200 | 200 | 200 | 200 | 200 | 200 | 200 | 200 |
| Are they folded? | No | No | No | No | No | No | No | No |
Delivery options
Delivery times that match your needs.
Free delivery to Mainland UK
Order now and get free delivery on this product by 26/08
Express shipping possible
In a hurry? No worries. We can calculate an express delivery for this product. Contact us for further information.
Trusted by






"I would 150 percent order from Limepack again. Originally I had difficulty navigating the website slightly but upon reaching out to the design team and customer service team I got support almost instantly. They then followed me through the process and checked in with updates to ensure everything ran smoothly for me. I am so so pleased with Mads and the whole Limepack team and the quality of the product and speed in delivery."
"Thank you for the great cooperation and the prompt processing of our wishes. Thanks to the 3D view, we were able to imagine the cups very well in advance. The result of our new coffee cups has become really great!"
"Great company! Fast, very personal and gigantically good! I will order there again and again. There is no service desert here! Great praise! Rarely something so Professionelle and yet so personal experienced! Making fun is fun!"
"Great service, fast delivery, high quality product."
"Full satisfaction: Top price-performance ratio, great product, fast transaction and great service!"
"Much faster than expected and super implemented :) Highly recommended"
"Well done. For a customer, I needed coffee cups at short notice. Layout draft was perfect. And the quick delivery in 2 weeks. Perfect!"
"Everything went great! Great paper cups and "Express", was really express delivery! Will gladly order again."
"It was a pleasure to buy paper cups with print at Limepack, they responded immediately and understood my needs from the start. They hit exactly the color I was looking for and I am very pleased with my paper cups. I can highly recommend Limepack."
"Professional work, very fast, and great service"
"Thank you for the consistently great service! We love our new paper cups!"
"Very nice paper cups with logo at the best price we could find on the market. You will be guided through the entire process - from the design process to the exact choice of the appropriate paper cup. Highly recommendable!"