Custom printed Food Paper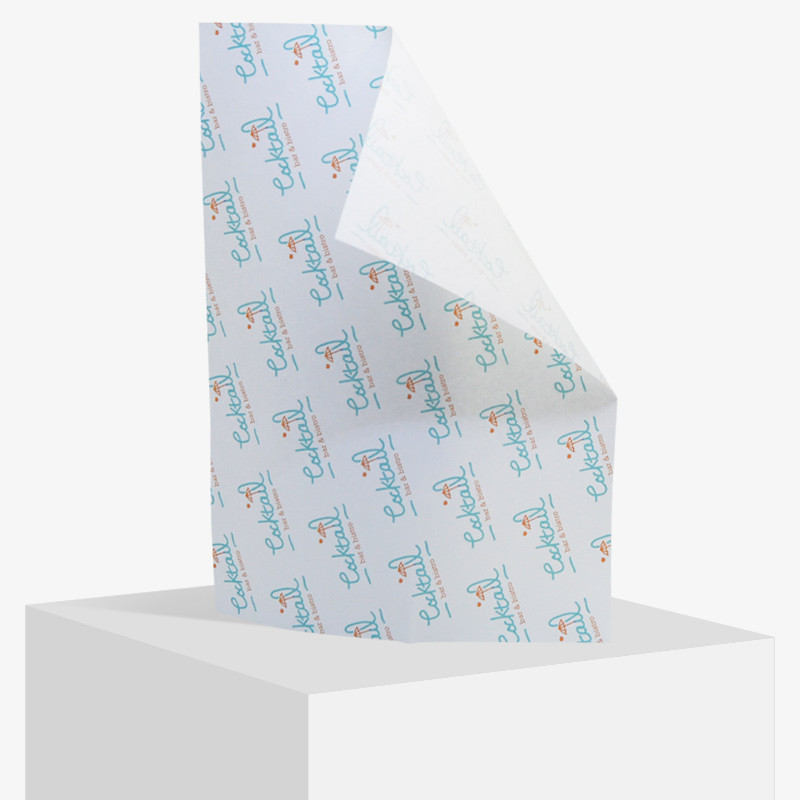 Custom printed Food Paper
Free design help info_outline
3D design proof
105% Price guarantee info_outline
UK's best prices
Free UK shipping info_outline
Express shipping possible
If you are using a lot of greaseproof paper or if you are starting to use more and more, then our bulk produced greaseproof paper is the right choice for you. Custom printed burger paper is the perfect way to make sure that your customers remember you and your business while they eat their food. The quantity of the bulk produced greaseproof paper is higher but the prices are also a lot lower. 
Flexo printed food wrapping paper
Our greaseproof paper is printed with Pantone colours as a standard, but you can get up to 4 colours in the same design. If you have a special request we can also make up to 6 colours in the design, but due to the cost of the printing plates being high, we need to do that by quote. The greaseproof paper is printed all over one side of the paper that is not coated, and the print will be reflected on the other side. The ink used for the print is food safe and approved to be used for food contact materials.
The great thing about using flexo printing as the printing method is that the printing plates used are very durable. They can be used many times over before new ones have to be made. We will, therefore, save the printing plates for up till 5 years, and you should only pay the cost of the printing plates once, and then when you reorder you will not have to pay the cost of the printing plates. 
Greaseproof paper at UK's best prices
To ensure a great price on wrapping paper with logo we are working with this manufacturer who has a minimum order quantity of 30.000 pcs. The reason for the high minimum order quantity is due to the high cost of the printing plate, but their plant is also one of the largest in Europe and they are really efficient and cheap to buy from. We have a standard delivery time of 6 weeks for 30.000 pcs. but we can often deliver faster than this, so if you have a specific delivery date then please reach out to us. 
Large selection of personalised greaseproof paper
One of the great things about working with this manufacturer is that the large production system allows us to customize the greaseproof paper in exactly the size that you want. But we have two standard sizes: 300mmx400mm and 400mm x 500mm - But we can make the food wrapping paper in both smaller and larger sizes. We have a minimum order quantity of 50.000 pcs. for 300x400mm and 30.000 for 400x500mm. The most used size is our 400x500mm.
You can also choose between three types of paper, they are all coated with PE plastic, that allows them to be used for red steaks and very juicy burgers. The three types of paper are white 30-gram paper, white 40-gram paper, and brown 42-gram paper. The colours of the paper are going to be background colours for the design - But we can also print all over the paper. The thickness is depending on the quality of the product you are looking for. Our most used paper thickness is white 40 grams and brown 42 grams. 
Get help by our packaging experts
Our standard delivery times are 4-6 weeks for the bulk produced food wrapping paper with logo. We can by request sometimes do it by express and deliver them within 3 weeks. So if you have a request for delivery times or other questions please reach out to us. Our Limepack packaging experts will be at your disposal and available to help you with both starting up projects or the design of the food wrapping paper. 
Read more
keyboard_arrow_down
Data sheet
configuration

step
| Size | 300x400mm | 400x500mm |
| --- | --- | --- |
| Background colours | White and Brown | White and Brown |
| Paper thickness (Grams pr. sqm) | White, PE coated: 22+8PE, White, PE coated: 31+9PE, Brown PE coated: 32+10PE | White, PE coated: 22+8PE, White, PE coated: 31+9PE, Brown PE coated: 32+10PE |
| Amount of colours | Up till 4 Pantone colours | Up till 4 Pantone colours |
| Printing Method | Flexo printing | Flexo printing |
| Fluorinated substances? | No | No |
| How is the print set-up? | Unregistered / registered (possible) | Unregistered / registered (possible) |
| Minimum order quantity | 50.000 pcs. | 30.000 pcs. |
| How is it delivered? | Pallets | Pallets |
Delivery options
Delivery times that match your needs.
Free delivery to Mainland UK
Order now and get free delivery on this product by 14/09
Express delivery
In a hurry? No worries. We can deliver with express for an extra price depending on your product configuration. Choose express delivery at checkout to calculate your price.
Order now, choose express at checkout and get this product delivered by 26/08
Trusted by






"I would 150 percent order from Limepack again. Originally I had difficulty navigating the website slightly but upon reaching out to the design team and customer service team I got support almost instantly. They then followed me through the process and checked in with updates to ensure everything ran smoothly for me. I am so so pleased with Mads and the whole Limepack team and the quality of the product and speed in delivery."
"Thank you for the great cooperation and the prompt processing of our wishes. Thanks to the 3D view, we were able to imagine the cups very well in advance. The result of our new coffee cups has become really great!"
"Great company! Fast, very personal and gigantically good! I will order there again and again. There is no service desert here! Great praise! Rarely something so Professionelle and yet so personal experienced! Making fun is fun!"
"Great service, fast delivery, high quality product."
"Full satisfaction: Top price-performance ratio, great product, fast transaction and great service!"
"Much faster than expected and super implemented :) Highly recommended"
"Well done. For a customer, I needed coffee cups at short notice. Layout draft was perfect. And the quick delivery in 2 weeks. Perfect!"
"Everything went great! Great paper cups and "Express", was really express delivery! Will gladly order again."
"It was a pleasure to buy paper cups with print at Limepack, they responded immediately and understood my needs from the start. They hit exactly the color I was looking for and I am very pleased with my paper cups. I can highly recommend Limepack."
"Professional work, very fast, and great service"
"Thank you for the consistently great service! We love our new paper cups!"
"Very nice paper cups with logo at the best price we could find on the market. You will be guided through the entire process - from the design process to the exact choice of the appropriate paper cup. Highly recommendable!"