Standard Paper Straw With Tampon Print
add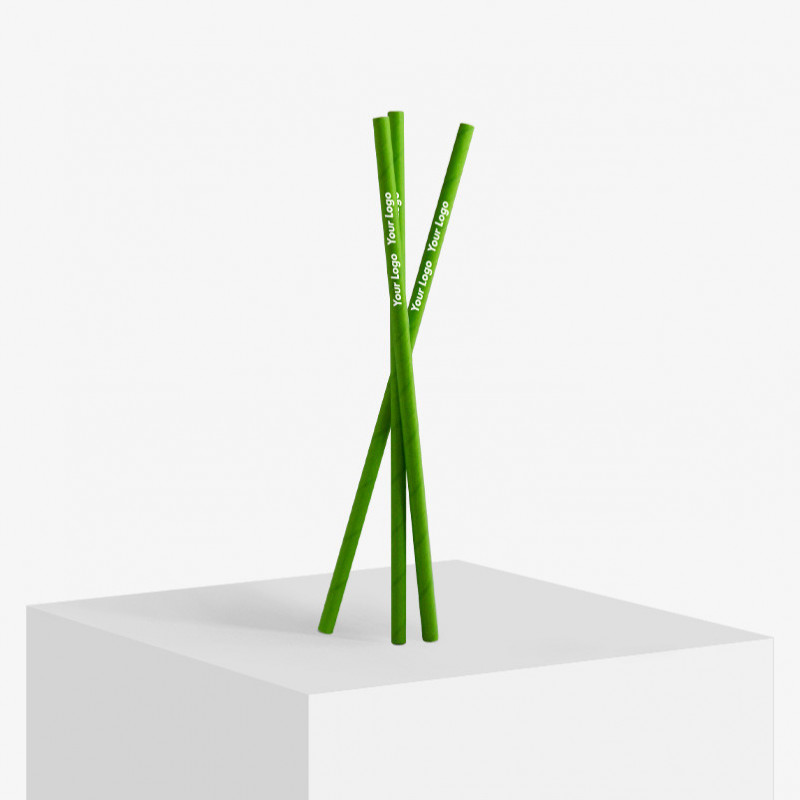 Standard Paper Straw With Tampon Print
Free design help info_outline
3D design proof
105% Price guarantee info_outline
UK's best prices
Free UK shipping info_outline
Express shipping possible
Standard paper straws are the most used straws, and it's the standard straw suitable for almost every occasion – and you can even get your own print on them! It doesn't matter if you serve iced coffee in your coffee shop or offer sodas in your burger joint. Your journey for environmentally friendly straws ends at Limepack!
Design your own
On our straws, with the simple print, we offer up to two colours for your design, and since it is Pantone colours it gives you a strong and recognisable print. We can print with 10 different colours: navy-blue, process-blue, water-blue, green, yellow, orange, red, pink, violet and black. The printing method used is the so-called tampon print, that allows to print one colour followed by another colour – this process ensures an incredible accurate print.
A rustic expression on your paper straws
As tampon print is used when printing on bent surfaces, this means that if you pick a simple print, as your requested printing method, the print will be added after the straws are folded. Your desired print or logo can be applied on top of the straw surface, that comes in plain standard colours; green, white and black. 
You will have a large variety of opportunities in regards to how you would like the design of your straws to be presented and to decide what fits your brand the best. Applying the print after the straws are folded gives a really clear expression.
Never compromise with the quality
Since our paper is made with 3 layers, you can be absolutely sure that they will not get soggy and porous before your customers have finished their drinks. We guarantee a minimums durability of 2 hours. Our paper straws are completely neutral in taste-making sure that the drinks you serve will not get an unpleasant paper flavour. Our standard paper straws with simple print are made of 100% food-safe materials as well as colours. 
The environment is paramount
When you use paper straws instead of plastic straws, you can be sure that they will not end up in nature and potentially harm the environment. Our standard paper straw with simple print is made of 100% compostable materials, which makes them degradable in just 2 months. Given the unfortunate circumstance that they do end in nature, they will degrade in about 6 months.
Large and well-assorted selection
We offer a large selection of our standard paper straws. They are suitable for almost all purposes, no matter if your printed straws are for drinks a large iced coffee, we got you covered. All of our standard paper straws with print come with a diameter of 6 mm and in three lengths: 'Juicer' – 210 mm and 'The Long' – 250 mm.
You can have all the sizes in minimum quantities of 5.000 pcs. Needless to say, you do not need to allocate a lot of space for storage of your paper straws.
Juicer ('The Medium')
'The Juicer' is the most common length and thus our most sold straws. It is the classic straw that can be used for almost every purpose. The 3-layers have a simple function to give your customers a good experience no matter what beverage they order. Perfect to draw your customer's attention and create awareness about yourself and your business.
'The Long'
Would you like to serve a little extra, spoil your customers and show them some love, then our long paper straws with print are the perfect solution for you. They are primarily used in cinemas and by the bigger fast-food restaurants, who would like to be able to deliver the 'premium' package. The 3-layer paper straws maintain its high quality throughout the whole drinking experience, even though this length, in general, is considered a bit fragile.
Read more
keyboard_arrow_down
Data sheet
configuration

step
Let us handle the design
Would you like free design assistance? We're here to help! Contact us, or simply upload your artwork while ordering.

Our design team will then send you a free proof of a design for your approval. Request changes for free, until you are satisfied.
Handle the design yourself
We offer you an easy way to set up your design yourself. Download a template below, and follow the instructions within the template.
We suggest you working with our templates in Adobe Illustrator.

While ordering, simply upload your design. Our design team will then send you a free proof for your approval. Request changes for free, until you are satisfied.
| Size | Standard | The long |
| --- | --- | --- |
| Length | 210 mm | 250 mm |
| Thickness | 6 mm | 6 mm |
| Weight | 1.30 gram | 1.53 gram |
| Surface | Matt | Matt |
| Number of straw colours | 3 | 3 |
| Available print colours | 11 | 11 |
| Number per box | 5,000 | 5,000 |
| Number per pallet | 140,000 | 105,000 |
Delivery options
Delivery times that match your needs.
Free delivery to Mainland UK
Order now and get free delivery on this product by 2/09
Express shipping possible
In a hurry? No worries. We can calculate an express delivery for this product. Contact us for further information.
Trusted by






"I would 150 percent order from Limepack again. Originally I had difficulty navigating the website slightly but upon reaching out to the design team and customer service team I got support almost instantly. They then followed me through the process and checked in with updates to ensure everything ran smoothly for me. I am so so pleased with Mads and the whole Limepack team and the quality of the product and speed in delivery."
"Thank you for the great cooperation and the prompt processing of our wishes. Thanks to the 3D view, we were able to imagine the cups very well in advance. The result of our new coffee cups has become really great!"
"Great company! Fast, very personal and gigantically good! I will order there again and again. There is no service desert here! Great praise! Rarely something so Professionelle and yet so personal experienced! Making fun is fun!"
"Great service, fast delivery, high quality product."
"Full satisfaction: Top price-performance ratio, great product, fast transaction and great service!"
"Much faster than expected and super implemented :) Highly recommended"
"Well done. For a customer, I needed coffee cups at short notice. Layout draft was perfect. And the quick delivery in 2 weeks. Perfect!"
"Everything went great! Great paper cups and "Express", was really express delivery! Will gladly order again."
"It was a pleasure to buy paper cups with print at Limepack, they responded immediately and understood my needs from the start. They hit exactly the color I was looking for and I am very pleased with my paper cups. I can highly recommend Limepack."
"Professional work, very fast, and great service"
"Thank you for the consistently great service! We love our new paper cups!"
"Very nice paper cups with logo at the best price we could find on the market. You will be guided through the entire process - from the design process to the exact choice of the appropriate paper cup. Highly recommendable!"