There are basically four different types of custom design paper cups. But if you want the printed design to stand out clearly and if you want to order smaller print runs, then the choice is really between single or double wall cups.
It is more difficult to get a sharp and clear print on a ripple or dimple wall cup, and we have only seen production batches in Europe for orders of 10,000 and up.
Paper cups are also available in many different thicknesses. Paperboard thickness can vary, and it will have an impact on the final price as well. There is no single thickness that is definitively better than the others. It all depends on your usage.
We, therefore, start by considering the choice between single wall paper cups and double wall paper cups instead.
The type of paper cup and thickness that you should choose depends on a number of considerations. Below, we have listed the considerations we always think about ourselves when we are talking to a customer about the choice of paperboard thickness and paper cup. You are always welcome to write us an email or give us a call if you are not sure which option is best for you.
Single Wall Cup / "The Original"
The single wall paper cup is the most common as it is the most economical and can be used for the most purposes. It is particularly suitable for cold drinks, but it is also used for hot drinks in many cases. Our own general rule is that single wall cups are okay for use with hot drinks that are quite milky, where there is no boiling content. But if we use the single wall for an Americano, a freshly-brewed filter coffee or for tea, then the outside of the cup will get quite hot. This can often mean that it is necessary to hold the cup at the top or to set it in a cup holder. It can also help to use an extra cup, but this is not as good as just using a double wall cup instead. You can read why in the next section.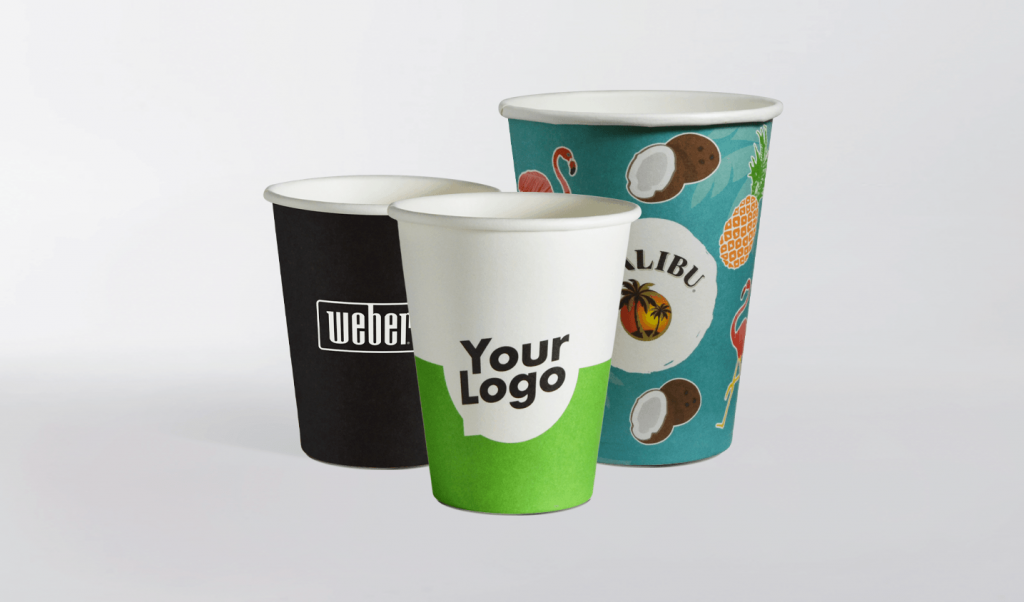 The most commonly used paperboard thickness in Europe for single wall cups is either 275 g or 320 g.
It can be hard to say exactly which thickness you should go for. It all depends on what your usage will be and what budget you have.
If the cups are only going to be used for cold drinks, then there is rarely any reason to spend the extra money on extra paperboard.
If we are talking about hot drinks then, again, it is not always straightforward and depends on what temperature you will serve the drinks at and where people will be standing when they have the cup in their hand.
If keeping the drink warm is your main concern, then we usually recommend going for a double wall version. You get significantly more heat preservation for your money thanks to the air layer.
Single wall cups are usually only available with a matt (uncoated) surface.
Double Wall Cup / "The Comfort Cup"
We often refer to the double-wall cup as the comfort cup, simply because it adds that extra level to the experience. It is characterised by its extra layer of paperboard.
A common misunderstanding that we come across is that people often believe it is the extra grams of paperboard that gives the cup its insulating effect. In fact, heat preservation is primarily due to the air layer between the two pieces of paperboard. Double wall cups, therefore, work in just the same way as double glazed windows. So if you are planning to serve very hot drinks and if your budget allows for it, we would recommend going for a double wall cup. This will always be cheaper than using two single wall cups together.
We normally recommend printed double wall paper cups if you serve very hot drinks and do not want your customers to burn their fingers. The double wall cup also displays a certain degree of exclusivity as it is comfortable to hold, while at the same time, it has a flat surface which gives it a razor-sharp appearance. Double wall cups are perfect for businesses where customers consume their drinks over longer periods of time, as the insulating air layer helps to keep the contents warm.
Matt doube wall paper cups

Glossy double wall paper cups
We provide double wall cups with either glossy (coated) or matt (uncoated) surfaces. As a final touch, our matt double wall cups are textured, which gives them a rougher and a more natural feeling. Our standard double wall paper cups have a glossy surface, so please get in touch if you would rather have a matt surface on your double wall paper cups. The most commonly used paperboard thickness in Europe for double wall cups is either 275 g/m2 + 205 g/m2 (outside layer) or 320 g/m² + 300 g/m².
When it comes to double wall cups, in most cases it does not make sense to pay more for extra paperboard thickness. The air layer provides enough heat preservation on its own.
We have both thicknesses in stock and would be happy to send you some samples. We can write as much as we like on this page, but nothing compares to the feeling of having the cup itself in your hand