We do only have one manufacturer of bread bags for now, which also makes the choices of buying paper bread bags fewer – But there is still a couple of choices you should consider when buying paper bread bags. We will go through them, and especially then ones you should consider in the designing process.
Sizes
First thing first, we have to choose the size that fits your product. You can choose between 5 different sizes:
The cookie bag (418)
12 x 25 x 6 cm
The snack bag (422)
13 x 28 x 6 cm
The sandwich bag (426)
15 x 32 x 6.5 cm
The wheat bread bag (429)
20 x 35 x 6,5 cm
The big brother (433)
20 x 48 x 7 cm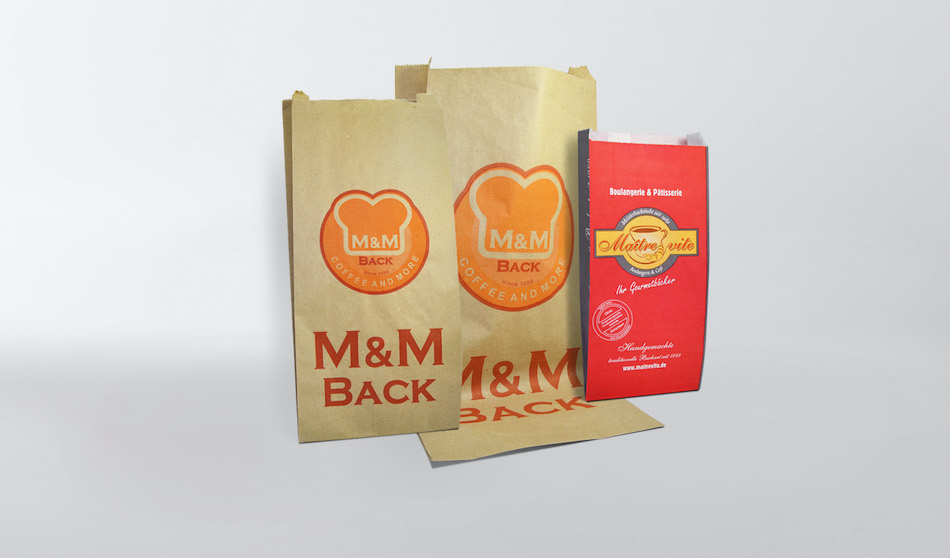 We have tried to choose some rather descriptive names for the bread bags, but in short, the sizes are not that wide but long instead of. They are not like the sizes of bread bags on a 7/11 but the cookie bag still fits perfectly for two 2 cookies and the snack bag for a couple of croissants. The sandwich bag is the perfect fit for a sandwich made in a baguette or another more long bread.
The wheat bread bag is the fit for bread at the bakery, that would take home for eating breakfast. We call the largest size the big brother because it does not become wider, but longer – Which means it can be used as a kind of takeaway bag. We have some customers who use it for their customers to take their burgers on the go.
Number of colours
With the bread bags, you can choose to get up to 4 different Pantone colours in the design. There is no limitation in which Pantone colours you can choose from, this allows you to choose from more than 1,867 colours. The number of colours mean that you can choose really specific colours, if you need it to match your brand profile. Remember the price varies per colours you want in the design – But it still gives you a lot of design opportunities with 4 colours.
Background
You can choose between two different background colours – You can either get a completely white background or a craft brown colour. (You can also choose another background colour since we are able to print all over the bread bags) The white colour is great for colourfull designs as it will reflect the colours better. The craft brown colour will give a more natural and environmentally friendly look.
How to design?
The design process of paper bread bags is actually rather easy since you just have downloaded our template and the design it in Adobe Illustrator, and put in the Pantone colours you use in the design. If you are not sure how to do the design, then our designer Erik will be at your service.
Delivery times
Our standard delivery times of paper bread bags with your design is 6 weeks from the approval of the design and we have received the payment of first-time orders. We can if needed some times, guarantee faster delivery times than 6 weeks, but you would need to contact our team of packaging experts to hear what is possible.