Environmental friendliness and climate change are high on the agenda of many consumers and politicians. Most manufacturers in Europe, therefore, offer the opportunity to select environmentally-friendly/biodegradable paper cups.
Below is a description of what this means in practice. In addition, you also have the opportunity to make your paper cup more environmentally friendly by reducing the CO2 emissions associated with its production and transportation, which is also described below.
Biodegradability
Conventional paper cups have a thin layer of oil inside which is used to keep the liquid contained within the cup. In biodegradable paper cups, this thin layer of oil is replaced with rapeseed oil, which is called PLA. By swapping out this regular oil layer, the cup becomes biodegradable. This does not mean that the paper cup will dissolve if it is discarded in a natural environment, but rather that it can be dissolved in special industrial composting machines. These machines are not in Denmark, which means that biodegradable paper cups are not being biodegraded, but instead sent to incineration. This is unlikely to take place here in the UK in any case, however, as most of our waste is incinerated.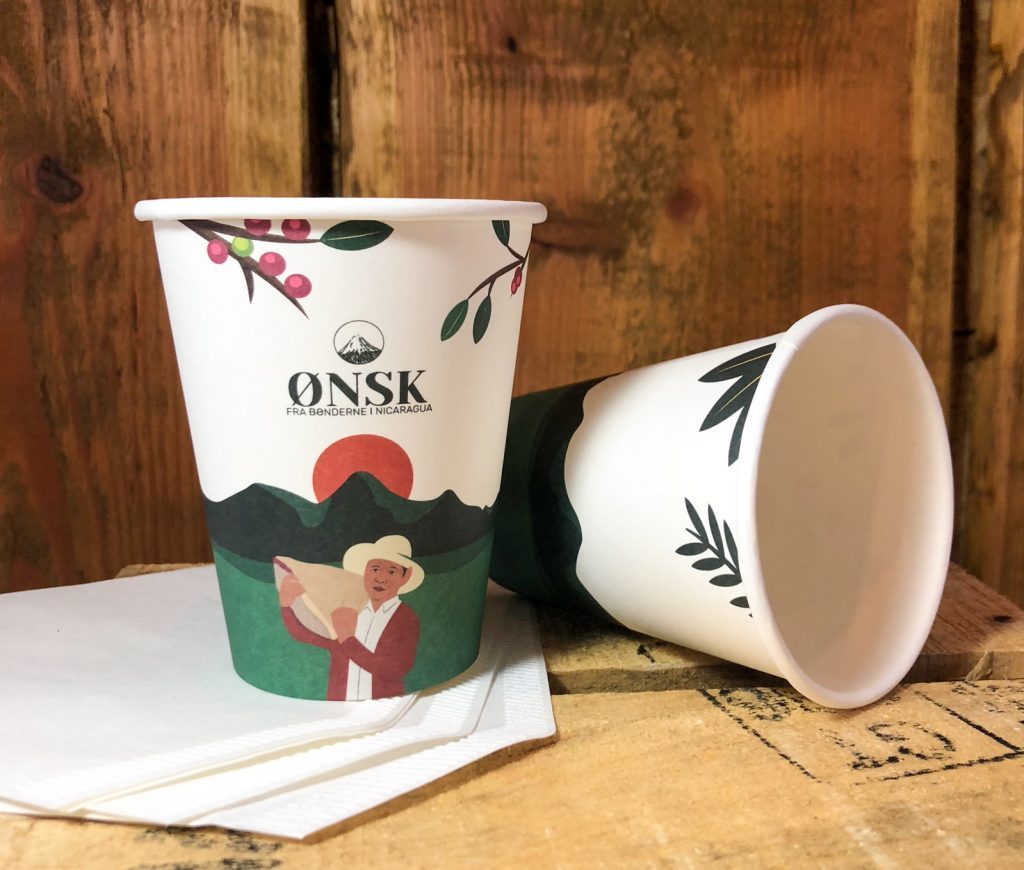 The good thing about biodegradable paper cups is that less CO2 is emitted in their production. This is because less CO2 is used in the production of rapeseed oil compared with regular oil. Furthermore, less CO2 is emitted in connection with the acquisition of rapeseed oil than is the case for regular oil.
Here at Limepack, we offer the possibility to select biodegradable paper cups. This is extra, however, and somewhat more expensive, depending on what paperboard thickness you select for your paper cup with logo.
FSC®
First of all, how does a product become FSC certified? For a product to become FSC certified, both the factory and the paper that the product is made of has to be FSC certified. The paper becomes FSC certified when it has not been made at the expense of the forest, or the animals, plants, and people who rely on it. There are three types of FSC certification for the product; FSC 100% that means it comes completely from FSC-certified well-managed forests. FSC Recycled means all the paper comes from re-used material. FSC Mix means the paper within the product is from FSC-certified forests, recycled material, or controlled wood. 
The factory becomes FSC certified when it complies with the standard in FSC-STD-40-004 (V3-0) EN CHAIN OF CUSTODY CERTIFICATION. This ensures that the factory sources, processes, labels and sell forest-based goods that live up to principles of FSC.
Here at Limepack the manufacturers we work with are using FSC Mix Credit paper for making their printed bio paper cups, and even the factory is certified and living up to the FSC standards. Your paper cups will be made of FSC Mix Credit paper when you buy BIO paper cups.
We are FSC certified under FSC® C132484, SCS-COC-005763-BC.
Transport
In the past, most companies ordered their to-go packaging (and paper cups in particular) from Asia. It is still the case that most large paper cup orders are produced in Asia. Transportation of to-go packaging from Asia to Europe emits more CO2 than freight transport by truck from a manufacturer within Europe. However, more CO2 is emitted when cups are transported from Asia by ship than when they are transported by truck from manufacturers within Europe.
Here at Limepack, we have chosen to work closely with several manufacturers in Europe. This ensures great prices for both small and large print runs, as well as quick delivery. All of our printed paper cups with logos are produced in Europe, and this means that less CO2 has been emitted during transport. This is good for you and for the environment as well.